George Orwell: Animal Farm

William Golding: Lord of the Flies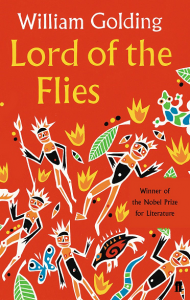 You can watch the film by clicking on   https://www.youtube.com/watch?v=IMBoYBapi8g
–
https://www.youtube.com/watch?v=IMBoYBapi8g
_
Maya Angelou: Phenomenal Woman
Pretty women wonder where my secret lies.
I'm not cute or built to suit a fashion model's size
But when I start to tell them,
They think I'm telling lies.
I say,
It's in the reach of my arms
The span of my hips,
The stride of my step,
The curl of my lips.
I'm a woman
Phenomenally.
Phenomenal woman,
That's me.   I walk into a room
Just as cool as you please,
And to a man,
The fellows stand or
Fall down on their knees.
Then they swarm around me,
A hive of honey bees.
I say,
It's the fire in my eyes,
And the flash of my teeth,
The swing in my waist,
And the joy in my feet.
I'm a woman
Phenomenally.
Phenomenal woman,
That's me.  
   Men themselves have wondered
What they see in me.
They try so much
But they can't touch
My inner mystery.
When I try to show them
They say they still can't see.
I say,
It's in the arch of my back,
The sun of my smile,
The ride of my breasts,
The grace of my style.
I'm a woman   Phenomenally.
Phenomenal woman,
That's me.   Now you understand
Just why my head's not bowed.
I don't shout or jump about
Or have to talk real loud.
When you see me passing
It ought to make you proud.
I say,
It's in the click of my heels,
The bend of my hair,
the palm of my hand,
The need of my care,
'Cause I'm a woman
Phenomenally.
Phenomenal woman,
That's me.  

John McCrae: In Flanders Fields
In Flanders fields the poppies blow
Between the crosses, row on row,
That mark our place; and in the sky
The larks, still bravely singing, fly
Scarce heard amid the guns below.
We are the Dead. Short days ago
We lived, felt dawn, saw sunset glow,
Loved and were loved, and now we lie,
In Flanders fields.
Take up our quarrel with the foe:
To you from failing hands we throw
The torch; be yours to hold it high.
If ye break faith with us who die
We shall not sleep, though poppies grow
In Flanders fields.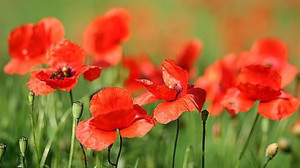 Robert Frost: The Road Not Taken
Two roads diverged in a yellow wood,
And sorry I could not travel both
And be one traveler, long I stood
And looked down one as far as I could
To where it bent in the undergrowth;
Then took the other, as just as fair,
And having perhaps the better claim,
Because it was grassy and wanted wear;
Though as for that the passing there
Had worn them really about the same,
And both that morning equally lay
In leaves no step had trodden black.
Oh, I kept the first for another day!
Yet knowing how way leads on to way,
I doubted if I should ever come back.
I shall be telling this with a sigh
Somewhere ages and ages hence:
Two roads diverged in a wood, and I—
I took the one less traveled by,
And that has made all the difference.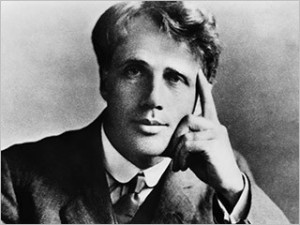 William Butler Yeats: The Lake Isle of Innisfree
I will arise and go now, and go to Innisfree, And a small cabin build there, of clay and wattles made; Nine bean-rows will I have there, a hive for the honey-bee, And live alone in the bee-loud glade.   And I shall have some peace there, for peace comes dropping slow, Dropping from the veils of the morning to where the cricket sings; There midnight's all a glimmer, and noon a purple glow, And evening full of the linnet's wings.   I will arise and go now, for always night and day I hear lake water lapping with low sounds by the shore; While I stand on the roadway, or on the pavements grey, I hear it in the deep heart's core.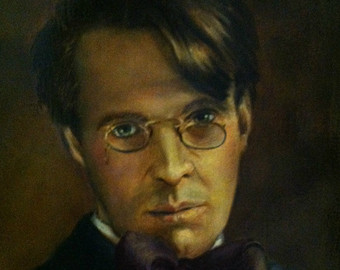 William Shakespeare: Sonnet 130
My mistress' eyes are nothing like the sun; Coral is far more red than her lips' red; If snow be white, why then her breasts are dun; If hairs be wires, black wires grow on her head. I have seen roses damasked, red and white, But no such roses see I in her cheeks; And in some perfumes is there more delight Than in the breath that from my mistress reeks. I love to hear her speak, yet well I know That music hath a far more pleasing sound; I grant I never saw a goddess go; My mistress when she walks treads on the ground.      And yet, by heaven, I think my love as rare      As any she belied with false compare.