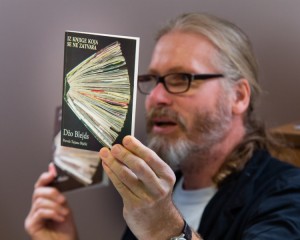 Našo gimnazijo je 12. oktobra obiskal kanadski pesnik Joe Blades.
_
Joe Blades is a Canadian poet, artist, and publisher–president of the independent literary publishing house Broken Jaw Press Inc., which was founded by him in 1984. Author of seven poetry books, three of his books have also been translated into Serbian.
When and how have you started your writing career?
I started writing poems on my own when I was in high school in Dartmouth, Nova Scotia. After high school, I went to Toronto, Ontario. There I attended an open mic. It was the first time I met other poets and got feedback on my poetry. I was invited to participate in several poetry workshops and I attended them every two weeks.
What are your usual inspirations? What inspires you the most?
I have a lot of inspirations, like nature and the senses. I'm also writing in an urban area. I have a lot of people coming and telling me their stories.
_
Do you have any kind of a writing routine?
I sometimes have a routine, especially when I am expected to write, but I usually write when I am inspired. My typewriter is always on my desk and it always has paper in it.
Who is your favourite poet? Why?
I think if I had to choose, my favourite poet would be bill bissett. I like how he plays with language and his unique way of spelling. When you read his poems aloud, you get what he is trying to say, but if you look at each word by itself, it doesn't make sense.
Do you write only in English? Are your works translated into any other languages?
I write mostly in English, but I have already written a few poems which were mixes of English and French. When I am writing a poem, I use the original expressions for things in their original languages, so I have words in more than thirteen languages in one book of poems.
You have been to many different countries and cities. Does your location have any influence on your writing?
Yes, location has a big influence on my writing. I always have my journal with me wherever I go and I write down interesting details about places I visit.
Are you interested in any other arts besides literature?
Yes, of course I am. I got a camera for my graduation from high school and I was always interested in photography. I have a Bachelor of Fine Arts degree. I also like sculpture, working on film projects, and I have been a part of a few residencies or art performances where I was painting or writing with a typewriter.
Are you currently working on anything new?
I have been working on a few poems, when I can, but recently I have mostly been presenting my papers at academic meetings. I am always thinking about poems and writing stories in my mind.
Tadej Počivavšek, 3. C
Note: bill bissett spells his name all lowercase. www.billbissett.com/